Home

/

VBM Domobar Junior - Analogic + Mazzer Mini Grinder Package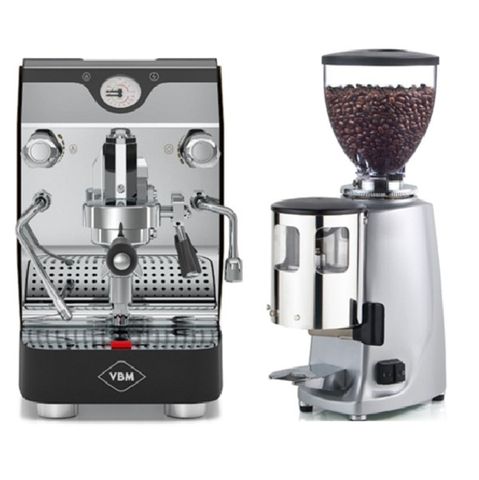 VBM Domobar Junior - Analogic + Mazzer Mini Grinder Package
Description
Benefits of the machine
The mid-range Domobar machine is ideal if you want the right balance between coffee dispensing and milk frothing.
· Easy to use & convenient for any home.
· Interchangeable Coloured Side-plate (sold separately).
· No monthly rental fees or minimum purchase requirements
· 1 coffee costs approx. $0.80c per shot. Compared to your local café @ approx. $6 per coffee.
· A non-plumbed Machine means you can set it up anywhere in your home next to your closest power outlet.
· Using filtered water to fill the tank will help prevent lime scale build up and will provide a great tasting coffee every time!
Features
· The Single-stage boiler system allows you to dispense coffee, steam and water separately and in total safety, thanks to dedicated switches.
· The red float indicates that the tray is full. Empty it and simply wash it in the dishwasher.
· Fill the tank directly from the machine or remove it and take it to the sink. For longevity we recommend using Filtered Water.
Why buy from us?
We are a proudly New Zealand owned Company, we provide complete hot beverage solutions for businesses all around NZ.
Aside from the great coffee machines we are a local coffee roaster and offer an extensive consumable product range which includes:
· Freshly roasted coffee; whole beans, ground, or granulated
· Delicious creamy Hot Chocolate
· Tea of many varieties
· Syrups / Sugar / Cups / Stirrers / and all other consumables needed to serve great hot drinks at your office, whenever you like.
We also have easy online ordering available for our customers for whenever you need to order extra.
Our Service Team is a group of skilled technicians who provide a full service of all equipment we supply as well as any technical support you may need for your Coffee Machine.
Downloads