Home

/

VBM Domobar Super - Analogic + Mazzer Mini Grinder Package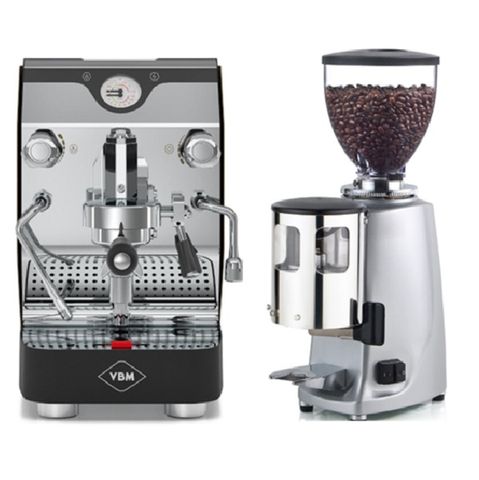 VBM Domobar Super - Analogic + Mazzer Mini Grinder Package
Description
VBM Super Analogic
This is the Ultimate at-home or office commercial espresso machine for those who really know their coffee Built to last and made to deliver a perfect cup every time.
Interchangeable Coloured Side-plate (sold separately).
VBM Super Analogic Highlights
Interface: 60Ø Double scale pressure gauge
Dual Boiler Volume: 2.0 Litres

The dual boiler system has two boilers: one for espresso extraction and the other to deliver steam and hot water for tea.

Element: 1800 W controlled by a solid-state relay
Pump: Rotary vane
Water Supply: Sensor water tank or switchable to plumbed in connection
Water Drain: Drawer
Power Supply: Requires 10 amp power socket
Mini Mazzer Grinder
Mazzer Grinders are recognised as the industry standard. The Mazzer Mini Grinder is perfect for a serious home barista.
The 'Mini" has the same on demand grinder technology as its bigger brothers. It has a 600gm bean hopper, flat burr blades and stepless micrometrical grinding adjustment
Mini Mazzer Grinder Highlights
Grinding Blades: Flat Ø 58 mm – 2¼ inches (ref. 182D)
Grinding Speed: 80g/min
Motor Speed: 1,400 RPM
Motor Power: 250W
Hooper Capacity: 600g
Why buy from us?
We are a proudly New Zealand owned Company, we provide complete hot beverage solutions for businesses all around NZ.
Aside from the great coffee machines we are a local coffee roaster and offer an extensive consumable product range which includes:
· Freshly roasted coffee; whole beans, ground, or granulated
· Delicious creamy Hot Chocolate
· Tea of many varieties
· Syrups / Sugar / Cups / Stirrers / and all other consumables needed to serve great hot drinks at your office, whenever you like.
We also have easy online ordering available for our customers for whenever you need to order extra.
Our Service Team is a group of skilled technicians who provide a full service of all equipment we supply as well as any technical support you may need for your Coffee Machine
Downloads